Highlights from the 2019 ABC Convention
Union Leasing attended the Associated Builders and Contractors (ABC) annual convention recently in Long Beach, CA, where we met a wide variety of people at our booth and at different functions throughout the event – from apprentices and tradespeople to business owners. The convention unites thousands of ABC chapter members and apprentices from across the country with the common goal of elevating and celebrating the construction industry.
While we spent most of our time at the booth, we were able to enjoy the opening night gala and witness one of the highlights of the event – the National Craft Championships (NCC), which is a competition featuring tests in crafts such as HVAC, plumbing, pipefitting, sheet metal, insulation, welding, carpentry, and electrical, among many others. It was exciting to watch these apprentices compete in their chosen crafts!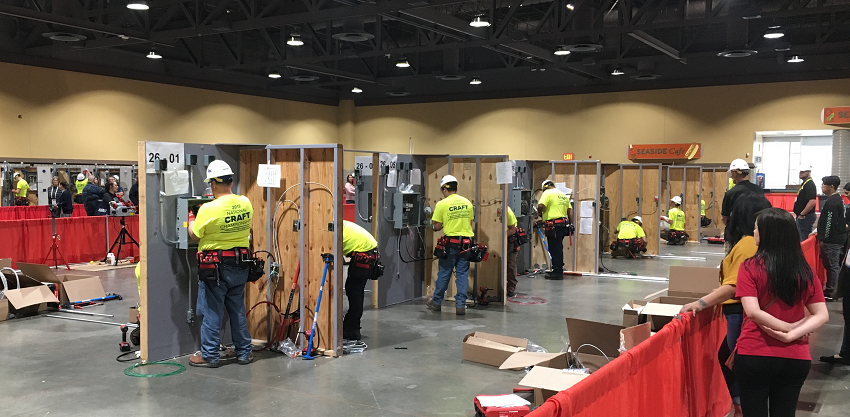 Fleet Management Themes
We were happy to receive many visitors at our booth and answer questions about fleet management in the construction industry. Fleet safety was a major theme, as always, and the attendees were specifically interested in learning more about how telematics plays a role in increasing fleet safety and asset protection. Another theme that came up more than a few times was how to weigh the pros and cons of owning or leasing vehicles.
Other topics of discussion during the event centered around the many different vehicle types used in the construction industry by all of the different trades. Many fleets prefer cargo vans, where items can be more secure and upfitting can be customized with a work desk and shelving for someone to work inside the van. Other companies have pickup trucks of varying size and GVW to assist in hauling and towing, while others will upfit a utility body on a pickup chassis to better store tools, parts, and ladders.
A variety of trades and industries were well represented at this event, but we plan to proactively get involved throughout the year at the local ABC chapters to get to know more people and companies and become a more visible, go-to resource when it comes to mobility asset management.
Union Leasing was proud to participate and support the ABC convention and we will definitely attend again next year in Nashville!